Protect Your Community! Say NO to Overdevelopment
White Rock City council mysteriously approved an 8-storey building with 139 rental units in just 45 seconds with no public debate! We believe this is wrong.
White Rock City council mysteriously approved an 8-storey building with 139 rental units in just 45 seconds with no public debate! That is wrong.
A High Density Rental Building Doesn't Belong Here
100% of residents living on Vidal, Thrift and Everall and those within its designated 100m  boundary, vehemently oppose the project.
During the recent election, Mayor Knight pledged to honor the new Official Community Plan (OCP). We urge you to remind her of this commitment and hold her accountable for the decisions that impact our daily lives.
Show your support to preserve the character of our community. 
[civist src="https://widget.civist.cloud/?api_url=https%3A%2F%2Fapi.civist.cloud%2Ft%2F27e307b7-09aa-473b-8824-e142246411d1%2F#/RW1iZWRkaW5nOjc1MWQwNDBlLTVjMGUtNGRhOS1iYzBhLWQxMjM5ZmVmYzNkZQ=="]
Join us in making a difference! We understand your concerns about sharing personal information. Your name and email are only used to verify your support and provide essential updates. Your data is kept confidential and will not be shared without your consent.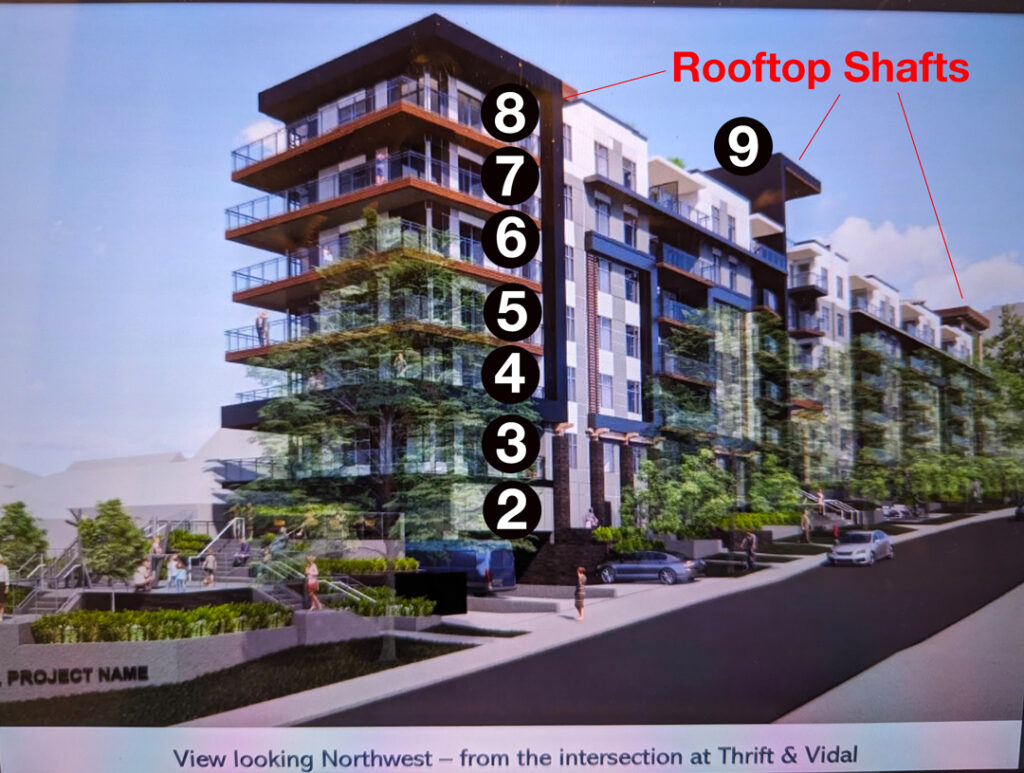 Building Elevations:
– WestStone Top of Elevator Shaft = 123.08m (403.80ft)
– Thrift Avenue Sidewalk Elevation = 91.95m (301.67ft)
– Difference = 31.13m (103.13ft) 
– Equivalent of about 10 stories
– Public walking along Thrift sees it as a 10-storey building
– Its mass now starts to compete with the Beverley building
A 4-storey building with 81 units was rejected 4 times over the last 3 years.
Now, an 8-storey building with 139 units was quietly approved in 45 seconds, with no debate allowed!
(Adjacent Beverley and Royce buildings have only 88 and 87 units, respectively.)
Densification on this scale, especially at this location, blocks sunlight. Insufficient greenspace and parks.
Beautiful old growth trees must be destroyed in order to build parkcade
100% of residents living on Vidal, Thrift, and Everall (around it) oppose the project.
Vidal Street, with only 2 or 3 lanes, is unable to withstand the impact of increased traffic.
(All streets of the Uptown Area have 4, 5, or 6 lanes and much greater traffic capacity.)
6-storey wood frames (first in WR) have a 40% higher incidence of fire than 4-storeys.
Vidal needs blocks of townhouses; not one 8-storey, very long, building monolith.
White Rock is the 9th most densely populated city in Canada. While only 0.18% of Metro Area, it is adding more units per capita than any other city in Metro Vancouver and is already doing its part towards resolving the Metro housing crisis.
How was this approved without any public debate?
This high-density building was rejected four times in the past three years as a 4 storey and has now been mysteriously approved as an 8-storey monster with 139 rental units! (See article below)
This project will have a negative impact on our community.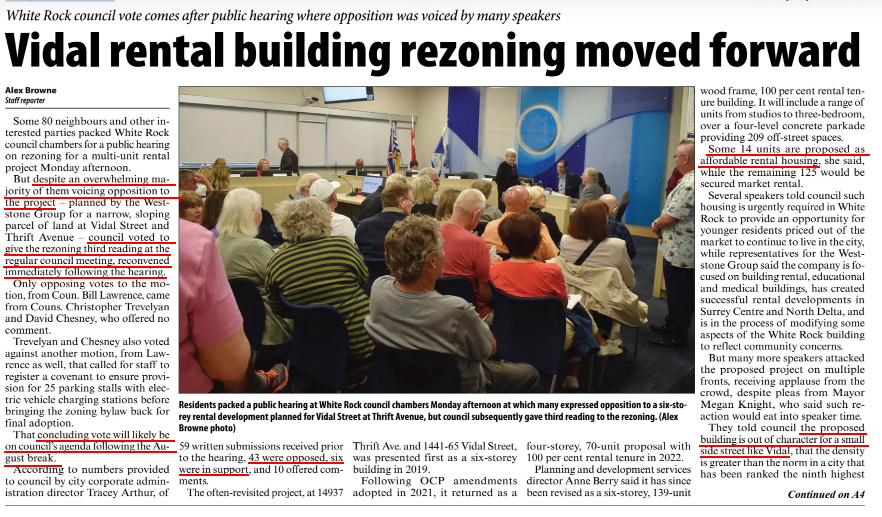 We are committed to fostering responsible development and community progress. We firmly believe that growth should align with the unique character of our neighborhood.
We understand the importance of creating vibrant spaces that meet the needs of our residents while preserving the charm that makes our area special.
Our advocacy is not against sensible development; rather, it is a call for thoughtful and harmonious integration. The proposed monolithic building by Weststone Group stands in stark contrast to the low-rise, townhouse community that defines our identity.
We believe that a development of this scale and design is out of place and could disrupt the very essence of our neighborhood. By voicing our concerns, we aim to encourage a collaborative approach that respects the balance between progress and preservation.
Join us in shaping a future where development enhances our community's character and quality of life.
Together, we can advocate for a vision of growth that reflects the values and aspirations of our neighborhood. Stand with us to ensure that our community's voice is heard and that our shared environment thrives for generations to come.
Act Now! Enter your name and email above and help protect our community.
Click buttons below to share this page to social accounts.